Who is Glen Hopkins?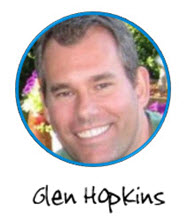 Back in 1999 Glen Hopkins knew absolutely nothing about computers. What he did know however was that the Internet was going to change the way the world did business. And with that in mind he took massive action — he quit his job working for 'the man' and jumped in feet-first building his own online empire!
Today he is an internationally renowned information marketer, consultant, speaker, and #1 best-selling author.
Glen is known as one of the most sought after business growth experts in the online business community. He works closely with small business owners, coaches, consultants, authors, and product creators. Sharing his proven strategy, he teaches them how to leverage what they already have to quickly skyrocket their business profits.
Many of today's best-know marketers have generated millions of dollars in revenue implementing the strategies that he teaches.
To see what other people are saying about Glen Hopkins and his coaching click here.